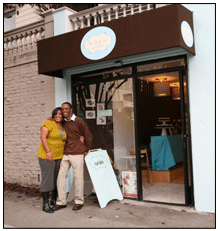 Do You Remember...
Remember being excited about a tasty cupcake?
So do we. Our main ingredients are love, kisses
and hugs which equals happiness.
Always fresh.
Always yummy.
Always a good idea.

Best Cupcakes In The Bay
That Takes The Cake, located in the heart of the
Union Street shopping district in San Francisco,
dazzles the tastebuds. From flavors like Blonde
Bombshell, Gentlemen Prefer Reds, to Hella Nutella, That Takes The Cake features the most deliciously unique variety of cupcakes you can imagine. Come into our sweet cupcake boutique and taste the difference our natural, fresh products make.
Each cupcake is fuller & creamier, just the way love should taste.
? Frances from Absolutely Charmed debriefed
her SF cupcake tour on her blog and is still
dreaming about our PB cupcakes!
? New pics by Karen from Huckleberry Karen at
the Bridal Faire Showcase! Check them out here
on her blog.
? TTTC made the Top 10 San Francisco
cupcake shops on SFStyleUnveiled.com!